| | | |
| --- | --- | --- |
| | The Doldrums Kite Club | |
---
DOLDRUMS KITE CLUB HAS UNFORTUNATELY GONE INTO HYBERNATION FOR THE TIME BEING. YOU ARE STILL WELCOME TO SEND US E-MAILS.
---
 Doldrums is a kite club in Gauteng, South Africa, with members from Pretoria and all over the greater Johannesburg.  The club started in all earnest at the beginning of 1998 and is growing with leaps and bounds, attracting attention from flyers all over the province. 

---
I wonder why we decided to call the club "The Doldrums"??? This is a fairly typical picture depicting normal conditions on the South African Highveld.  All the kites in the foreground are light wind kites, which is mainly what we fly up here.
---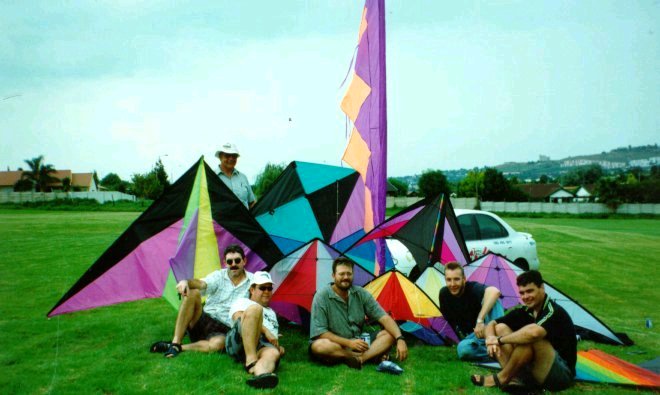 Photo gallery (which is fairly regularly updated)
Featured members at long last you can see what the people you have been communicating with looks like
Membership - join Doldrums or renew your membership
Contacting Doldrums - if you need to discuss or send us anything
Kite shops close by and not so close by
DKC Newz Our first club newsletter
Links to other South African kite sites
Where we fly - due to our extended membership area, we have a number of regular flying places
Our rules - We have only one, very important, rule: NO POLITICS!!
Kite arch - our first club project!
SEND AN E-MAIL



Sign our guestbook

---